OPENING DAY
SATURDAY, JUNE 2, 2018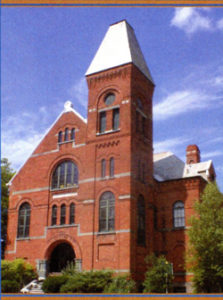 Interested in finding out about the history of Ludlow and the Black River Academy; join us for our opening day on Saturday, June 2nd. There are three floors of displays highlighting the events of Ludlow and the Academy's history.
It's not just about Calvin Coolidge but many diverse people who graduated from this institution over the years. An introductory video can be viewed upon entering the museum giving an overview of what is included in the museum and where to find various displays.
Gretchen Gregory from Northern Gardens & Landscaping will be at the museum to demonstrate various methods of making your own tea with samples available. If you missed Gretchen at the April 12th event, here is another opportunity to see this program. The event will run from 2pm until 4pm. Refreshments will be served.
We are looking forward to seeing you opening day from noon-4pm. General admission is $2; seniors and students $1. If you are not able to attend the grand opening, the museum will be open during the summer Tuesdays through Saturdays, noon to 4pm. See what Ludlow is all about!
---