FINNISH LOG & SAUNA Presentation by Frank Eld
Living in many rural areas, you might have come across a wooden structure next to the main house and wondered what it was. It was too small to be a barn and too large for a chicken coop. There was smoke coming out of the chimney and it seemed to be running on a regular basis. If a Finnish family lived next to that dwelling, then you knew it was their sauna. Unfortunately, in the US many Finnish families have not continued with their family tradition of the sauna for physical and mental relaxation.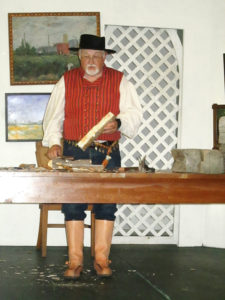 Frank Eld, a preservationist and educator on Finnish log construction will be speaking at the Black River Academy on 14 High School in Ludlow on Thursday, July 6 at 7pm to talk about the information he has gathered over the years recording information about Finnish communities and their log construction. "It's our Finnish heritage, we need to document and preserve it," Frank tells people as he travels. Frank will provide a PowerPoint presentation dealing with his findings over the last forty-five years. He is the Founder of the Long Valley Preservation Society, in Roseberry, Idaho which is a historic town site with twenty-five preserved buildings. Many of these buildings were constructed by the Finnish immigrants who homesteaded in that area in the early 1900's.
Ludlow had a fairly large Finnish population during that same time period. They were so well built that they still might be here but hidden amongst the bushes and trees on a local farm or homestead. The museum is fortunate to have Frank as our guest speaker as he travels across the upper United States, Canada, and Finland looking for remnants of this lost art. Come join us on July 6th and learn about this unique building and other Finnish log structures.

---