Calvin Coolidge 30th President of the United States
Born in Plymouth, Vermont, on July 4, 1872, Coolidge was the son of a village storekeeper. He was graduated from Black River Academy in 1890 and attended Amherst College, graduating with honors, and entered law and politics in Northampton, Massachusetts. Slowly, methodically, he went up the political ladder from councilman in Northampton to Governor of Massachusetts, as a Republican. En route he became thoroughly conservative.
As President, Coolidge demonstrated his determination to preserve the old moral and economic precepts amid the material prosperity which many Americans were enjoying. He refused to use Federal economic power to check the growing boom or to ameliorate the depressed condition of agriculture and certain industries. His first message to Congress in December 1923 called for isolation in foreign policy, and for tax cuts, economy, and limited aid to farmers.
He rapidly became popular. In 1924, as the beneficiary of what was becoming known as "Coolidge prosperity," he polled more than 54 percent of the popular vote.
In his Inaugural he asserted that the country had achieved "a state of contentment seldom before seen," and pledged himself to maintain the status quo. In subsequent years he twice vetoed farm relief bills, and killed a plan to produce cheap Federal electric power on the Tennessee River.
The political genius of President Coolidge, Walter Lippmann pointed out in 1926, was his talent for effectively doing nothing: "This active inactivity suits the mood and certain of the needs of the country admirably. It suits all the business interests which want to be let alone…. And it suits all those who have become convinced that government in this country has become dangerously complicated and top-heavy…."
Both his dry Yankee wit and his frugality with words became legendary. His wife, Grace Goodhue Coolidge, recounted that a young woman sitting next to Coolidge at a dinner party confided to him she had bet she could get at least three words of conversation from him. Without looking at her he quietly retorted, "You lose." And in 1928, while vacationing in the Black Hills of South Dakota, he issued the most famous of his laconic statements, "I do not choose to run for President in 1928."
By the time the disaster of the Great Depression hit the country, Coolidge was in retirement. Before his death in January 1933, he confided to an old friend, ". . . I feel I no longer fit in with these times.
John Garabaldi Sargent, US Attorney General under Calvin Coolidge
John Garibaldi Sargent served as attorney general of the United States under President CALVIN COOLIDGE. He was born October 13, 1860, in Ludlow, Vermont, to John Henmon and Ann Eliza Hanley Sargent. He was schooled locally at Black River Academy, graduating in 1883, and then entered Tufts College in Boston, receiving a bachelor's degree in 1887. Early in his college years, Sargent became active in the Zeta Psi Kappa Society; through the fraternity's activities he was introduced to many of Boston's oldest and most influential political families, including the Coolidges.
After college, Sargent returned to Ludlow, where he married Mary Lorraine Gordon in 1887. Sargent studied law with attorney, and future Vermont governor, William Wallace Stickney. Following Sargent's admission to the Vermont bar in 1890, he joined Stickney in the practice of law.
Sargent's first political appointment came in 1898 when he was named state's attorney for Windsor County, Vermont. He served until 1900 when he was appointed secretary of civil and military affairs for the state of Vermont by his law partner, who was then serving his first term as governor. After completing the two-year assignment, Sargent returned to the firm and resumed the practice of law. From 1902 to 1908, he argued the majority of his cases in federal court, and he established a national reputation as a trial lawyer.
In 1908 Sargent was named attorney general of Vermont. While in office, he was involved in one of the leading cases in the history of Vermont's highest court. In Sabre v. Rutland Railroad Co., 86 Vt. 347, 85 Aik. 693 (1912), attorneys for the railroad argued that the powers enjoyed by Vermont's Public Service Commission (which regulated railroads) violated the Vermont Constitution by commingling legislative, executive, and judicial functions. Sargent, arguing for Sabre and the state, disagreed. His position was that the SEPARATION OF POWERSwas only violated when one branch exercised all of the powers of another branch. The court agreed with Sargent and recognized the QUASIJUDICIAL powers of executive-branch state agencies. The decision led the way for commissions and boards across the country to wield court-like powers.
While serving as Vermont's attorney general, Sargent also returned to school, receiving a master's degree from Tufts College in 1912. When Sargent returned to his law firm in 1913, he turned his attention to partisan politics. He supported REPUBLICAN PARTY candidates in Vermont and throughout the Northeast and
campaigned vigorously for WARREN G. HARDING in 1920 and Calvin Coolidge in 1924.
Sargent was named attorney general of the United States on March 17, 1925, but only after the president's first choice, financier Charles B. Warren, withdrew after the Senate questioned his willingness to enforce ANTITRUST LAWS. Sargent proved to be a safe and noncontroversial alternative. He was confirmed in just one day, and he served from March 18, 1925, until March 4, 1929.
Sargent was not known as a leader in the fight for racial equality, but he did ask the president to commute the sentence of MARCUS GARVEY in 1927. Garvey was a political activist from Jamaica who had been convicted of MAIL FRAUD for his efforts to recruit black Americans for his Universal Negro Improvement League and African Communities Association Garvey v. United States, 267 U.S. 604, 45 S. Ct. 464 (1925). The tainted proceeding against Garvey was orchestrated by an overzealous young JUSTICE DEPARTMENT attorney named J. EDGAR HOOVER.
Sargent was outspoken in his disapproval of Hoover's tactics in the Garvey case, and he was among the first attorneys general to condemn the gathering of evidence through WIRETAPPING, a tactic approved by Hoover when he was director of the FEDERAL BUREAU OF INVESTIGATION. Testifying before a congressional committee, Sargent said, "Wire tapping, ENTRAPMENT, or use of any illegal or unethical tactics in procuring information will not be tolerated…."
In 1930 Sargent returned to Vermont and again took an active role in his law firm. In his later years, Sargent devoted his time and energy to local businesses and community organizations. When years of political infighting finally forced the reorganization of Vermont's railroads in the early 1930s, Sargent was appointed to oversee the process.
Sargent died at his home in Ludlow, Vermont, on March 5, 1939.
Paul Harris, founder of Rotary
Paul P. Harris was the founder of Rotary. He was born in Racine, Wisconsin on April 19, 1868, and spent his early years in Wallingford, Vermont, prior to attending the University of Vermont, Princeton University and the University of Iowa.
His experiences in Vermont schools was, by in large, not notable for its achievements. After attending Rutland High School for a year, he was enrolled in Black River Academy, from which he was expelled for "pranks". He did manage to get through Vermont Academy, then a military school, and attend the University of Vermont. Here he was again expelled for actions that would be established later that he was innocent of.
Following his graduation from the law school of the University of Iowa in 1891 he spent the next five years seeing the world and in coming to know his fellow man before settling down to practice law in Chicago.
He worked as a newspaper reporter, a business college teacher, a stock company actor and as a cowboy. He traveled extensively as a salesman for a marble and granite concern in the U.S.A. and Europe. These varied experiences broadened his vision and were of material assistance in the early extension of Rotary.
In 1896, Paul Harris went to Chicago to practice law. One day in 1900 he dined with a lawyer friend in Rogers Park, a residential section of Chicago. After dinner they took a walk and he was impressed by the fact that his friend stopped at several stores and shops in the neighborhood and introduced him to the proprietors, who were his friends. Paul Harris' law clients were business friends, not social friends, but this experience caused him to wonder why he couldn't make social friends out of at least some of his business friends – and he resolved to organize a club which would band together a group of representative business and professional men in friendship and fellowship.
Ida Fuller, first recipent of Social Security
Ida May Fuller was the first beneficiary of recurring monthly Social Security payments. Miss Fuller (known as Aunt Ida to her friends and family) was born on September 6, 1874 on a farm outside of Ludlow, Vermont. She attended Black River Academy where one of her classmates was Calvin Coolidge. In 1905, after working as a school teacher, she became a legal secretary. One of the partners in the firm, John G. Sargent, would later become Attorney General in the Coolidge Administration.
Ida May never married and had no children. She lived alone most of her life, but spent eight years near the end of her life living with her niece, Hazel Perkins, and her family in Brattleboro, Vermont.
Miss Fuller filed her retirement claim on November 4, 1939, having worked under Social Security for a little short of three years. While running an errand she dropped by the Rutland Social Security office to ask about possible benefits. She would later observe: "It wasn't that I expected anything, mind you, but I knew I'd been paying for something called Social Security and I wanted to ask the people in Rutland about it."
Her claim was taken by Claims Clerk, Elizabeth Corcoran Burke, and transmitted to the Claims Division in Washington, D.C. for adjudication. The case was adjudicated and reviewed and sent to the Treasury Department for payment in January 1940. The claims were grouped in batches of 1,000 and a Certification List for each batch was sent to Treasury. Miss Fuller's claim was the first one on the first Certification List and so the first Social Security check, check number 00-000-001, was issued to Ida May Fuller in the amount of $22.54 and dated January 31, 1940.
When she retired in 1939, she had paid just three years of payroll taxes. Nevertheless, she received monthly Social Security checks until her death in 1975 at age 100. By the time of her death, Fuller had collected $22,888.92 from Social Security monthly benefits, even though she had contributed only $24.75 to the system.
Abby Hemenway, author of the Vermont Gazeteer
When you think of all of the famous women in history, you might think of people like Amelia Earhart, Harriet Tubman, Ida Fuller, or Rosa Parks. Of course, there was once an amazing woman that not many people remembered. She had ambition, originality, strength, and so much more that led her to a great writing career that changed the lives of many writers around the world. Her name was Abby Hemenway.

Abby Hemenway was born on October 7, 1828. She had two sisters named Lydia and Carrie Hemenway. Her father's name was Daniel Shefield Hemenway, and her mother was named Abigail Dana Barton.
From age fourteen, Abby worked as a teacher. She always had a desire to write. She had a great relationship with her Uncle Asa and went to Michigan to teach, but some down points in her life turned out to be the years that she spent in Michigan. Above all things, she always loved to read. She especially loved history books! She was a student and graduated from the Black River Academy right here in Ludlow, Vermont.
Abby Hemenway wrote a lot of poetry. She published her poetry in 1858 and 1859. She never married because she was always so busy with her writing. Her devotions to writing made it nearly impossible for her to combine her writing career and marriage.
Abby wanted to take her writing to another step. She loved history books, and she loved Vermont! She wanted to preserve the history of every Vermont village and every Vermont town. So she wrote a gazetteer. A gazetteer is a book that told almost everything about Vermont and each town in Vermont. With a few exceptions, Abby only edited the Gazetteers that she wrote, while others wrote the town histories themselves. Of course, Abby traveled all over the state of Vermont and gathered information to put into the Gazetteers.
Some of the places that she traveled to were Michigan, Chicago, Boston, and Essex County (in the fall of 1860). She had completed four Vermont Historical Gazetteers. A fifth gazetteer was published after her death. She had collected manuscripts for the sixth volume but it was burned in a fire in North Carolina in 1911. The fifth volume that her sister Lydia had finished after her death was also burned in the fire.
Abby Hemenway died in February 24, 1890 form a stroke. She was sixty-two years old when she died. She died in Chicago, Illinois and was buried in Pleasant View of Ludlow, Vermont.
Abby was an amazing woman that was meant to write. She inspired so any writers around the entire world and will always be remembered. She had a fulfilling life and the history and memory of Vermont will always be cherished because of her.
Governor W.W Stickney
Born in Plymouth, Vermont, WILLIAM W. STICKNEY was educated in the common schools and at Phillips Exeter Academy. He went on to study law and practiced in Ludlow, Vermont. He was also president of the Ludlow Savings Bank and Trust Company. He was clerk of the State House of Representatives from 1882 to 1892, State's Attorney for Windsor County from 1882 to 1884 and again from 1890 to 1892, and represented Ludlow in the legislature, serving as Speaker of the House for four years. As governor, he favored abolishing the office of Tax Commissioner. During his administration, legislation was passed establishing the boundary line between Massachusetts and Vermont. After serving one term, he returned to his law practice and banking and insurance interests. As a delegate to the Republican National Convention in 1924, he seconded the nomination of Calvin Coolidge for President. Stickney died in Sarasota, Florida and was buried in Ludlow, Vermont.
Edward Howard Dorsey, "Pop" Dorsey
On June 13. 1872 a very important man to the town of Ludlow, Vermont was born. His name was Edward Howard Dorsey. Little did he know that he would be one of the most memorable men to the Black River Academy.
Pop Dorsey took a job as a teacher at Black River Academy in 1895. From 1895 on he lived in Ludlow and became known as "Pop". He got this name because he was more like a father than a teacher to the students. He still was the teacher and had authority but if the kids needed a father, he was there for them.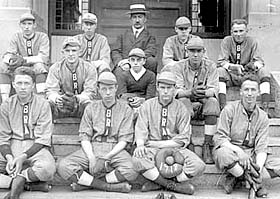 There were many stories about this great man of Ludlow. Here is one people won't be forgetting. He used to be the baseball coach for the Academy and he had a kid that was one of the fastest pitchers m the state. At the time the gloves for the catchers were not very good in material and the ball would hurt your hand. It got to the point that it would hurt so much that Pop decided to run down to the local meat market and picked up a beefsteak. When he returned he put it in the catcher's glove, the baseball would hurt no more. He even had a kid go on to play in the professional league for the Boston Braves, his name was Jim Hastings.
One of his favorite teaching methods was when he would ask a question he would look at one person on one side of the room and say someone else's name on the other side of the room. When he did this the person he called on wouldn't answer. This was his way of keeping everybody on their toes during class.
Pop was what many people called a perfectionist. He had to have every thing exact. If you were off by .0000001 he would mark it wrong. If you needed help with work you would stay after school to learn the material.
Frank W. Agan
Frank W. Agan was born in Plymouth, VT, December 18, 1868. He attended the common schools and Black River Academy in Ludlow. June 10, 1896, he married Cora A. Safford, daughter of the late Major Darius Safford of Morrisville, VT. She died August 26, 1899. In 1897, Mr. Agan commenced the manufacture of shoddy, the first industry of the kind ever established in Ludlow.
The Agan vacuum cleaner was created by Frank W. Agan in Ludlow, Vermont sometime in the late 19th or early 20th century. The Agan Vacuum is an important symbol of the Gilded Age. As technology and innovation spurred on the Industrial Age, wealth increased and as a consequence, a new class developed. With a vast amount of buying power, many new products appeared to meet the demands of this new class, especially its women. Society demanded that women present their homes as a model of their husband's wealth and influence in the work place and with disposable income on the increase, washing machines, stoves and vacuums all represented this wealth. Meant as 'labor saving devices,' these new products also opened up some 'leisure time' allowing women time to spend on volunteering in their communities and focusing on other aspects of their roles as mothers and wives.